The
#1 Component

of a Healthy Pregnancy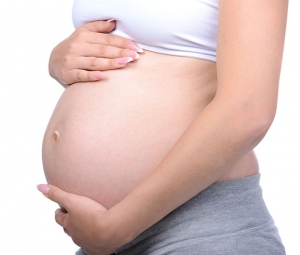 Pregnancy can be a difficult time during a woman's life. In addition to the physical changes associated with creating a new life, you may be facing new job and lifestyle changes, evolving family relations, and a lot of other stressful situations. Many times, these stresses can overshadow the most important thing: ensuring that your baby is getting all the help it needs to develop and grow healthily.
It's no secret that babies need plenty of nourishment, but it's an absolutely crucial factor that must not be understated.
Even with a perfect diet you may not be getting all of the vitamins and minerals your baby needs in order to develop properly. That's why prenatal vitamins are so important for complete prenatal care.
Even the best diets—consisting of the healthiest foods prepared to perfect portions—can have nutritional gaps. These hard-to-come-by vitamins and minerals are essential for the healthy development of your baby.
Our vitamins have you covered.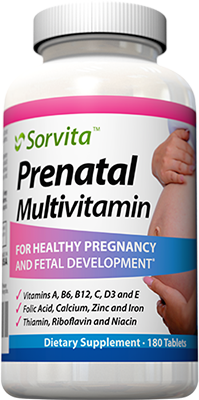 Sorvita™ Prenatal Multivitamins have
13 key vitamins and minerals

. Everything you need for a healthy pregnancy and proper fetal development comes in an easy-to-swallow veggie capsule.
All the Essentials – Including Folic Acid, Thiamin, Riboflavin, Niacin, Vitamin A, D3, C, E, B6 & B12 Plus Calcium, Zinc & Iron.

High Quality Premium Supplements – Our vitamins are manufactured in FDA Inspected GMP Certified facilities.

Excellent Value – With 180 tablets, one bottle has enough daily doses for about 6 months.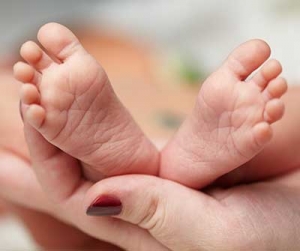 Put your mind at ease and give your baby what it needs. Sorvita™ Prenatal Multivitamins are your first step towards having a healthy, happy baby.
The ingredients in our product have been proven to help your baby's brain and spinal cord develop correctly, protect your bones as your baby grows, help your blood deliver oxygen to your baby, and may also prevent your baby from being born early or too small.
Months from now as you're peering into the eyes of your newborn for the first time, you'll smile knowing that everything you did during pregnancy ensured your child's healthy delivery. A lifetime of possibility awaits your child thanks to the care and nourishment you provided during the baby's complex development.
We want to help you get to that moment. And it starts now, with proper nutrition during pregnancy.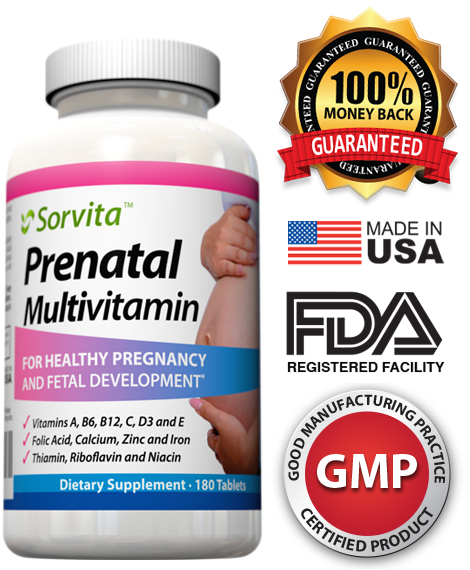 Don't take our word for it.  Here's what our customers have to say:
These are great vitamins that go down easily and have everything you need. Makes you feel better knowing you have all your vitamins/minerals. Will continue to take.
This is a great prenatal vitamin! I am not currently pregnant, but we are trying. It was recommended to me that i start taking prenatal vitamins, because I need some more folic acid in my body. This bottle has a huge supply of vitamins also! 6 months worth! My Mother in law takes prenatel vitamins for her health, so I have recommended this brand to her.
Everyone knows that prenatal vitamins are crucial for the development of a baby. While I am in my mid-40's and NOT pregnant, I take these as a daily vitamin for strong nails and hair. A special note: the instructions say not to take them within an hour of a prescription so I do these in the morning after breakfast and my prescription in the evening.
Has all the essential vitamins and minerals. Love that the bottle has a 6 month supply.
What do the Experts have to say?
"Eating a healthy diet is always a wise idea — especially during pregnancy. It's also a good idea during pregnancy to take a prenatal vitamin to help cover any nutritional gaps in the mother's diet.  Prenatal vitamins contain many vitamins and minerals. Their folic acid, iron, iodine, and calcium are especially important. Folic acid helps prevent neural tube birth defects, which affect the brain and spinal cord."

"Prenatal vitamins are a must for pregnant women who need higher amounts of vitamins and minerals like folic acid and iron to keep their growing babies healthy. Taking these vitamins can also be a good idea for women who are trying to conceive, since certain developmental problems may develop very early on in a pregnancy, possibly even before a woman knows she is pregnant, and can often be prevented by sufficient amounts of folic acid."

"A healthy diet is the best way to get the vitamins and minerals you need — but even if you eat a healthy diet, you might fall short on key nutrients. If you're pregnant or hoping to conceive, prenatal vitamins can help fill any gaps.  How are prenatal vitamins different from other vitamins?  Prenatal vitamins typically contain more folic acid and iron than do standard adult multivitamins."

We offer a 100% No-Hassle Satisfaction Guarantee on all of our products.
We so strongly believe in the quality of our product, that if you're not completely happy with your purchase for any reason, we'll give your full payment back – guaranteed, whether you've used one capsule or the whole bottle!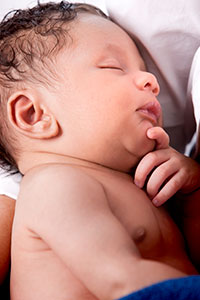 Every Single Day of Your Pregnancy is a Critical Stepping Stone
You can't afford to deprive your child during its complex development. Give your body the nutrition it needs to nourish a healthy, happy baby.
Take advantage of our limited time offer and get Sorvita Prenatal Multivitamins now, for 35% off.  You've got nothing to lose, and so much to gain.
For a very limited time, we're offering a 35% off coupon in this very special online-only promotion!
This offer won't last forever! There are currently only 28 Amazon.com coupons remaining. Get yours now!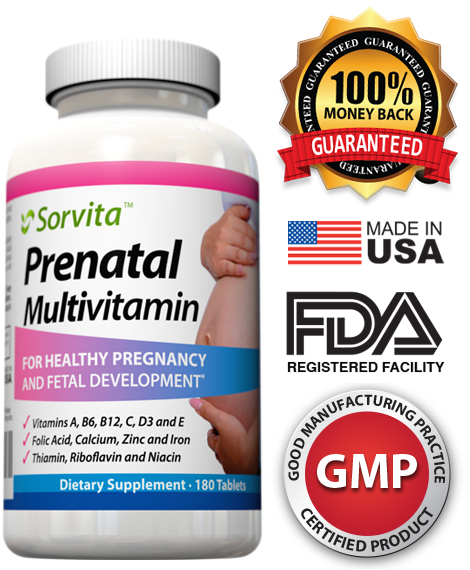 NOTE: Product names, logos, brands, and other trademarks featured or referred to within prenataloffer.com are the property of their respective trademark holders. These trademark holders are not affiliated with prenataloffer.com, Sorvita Nutra Products, LLC, our products, or our website. They do not sponsor or endorse our products or claims.